Top 10 Tips to choose appliances for the kitchen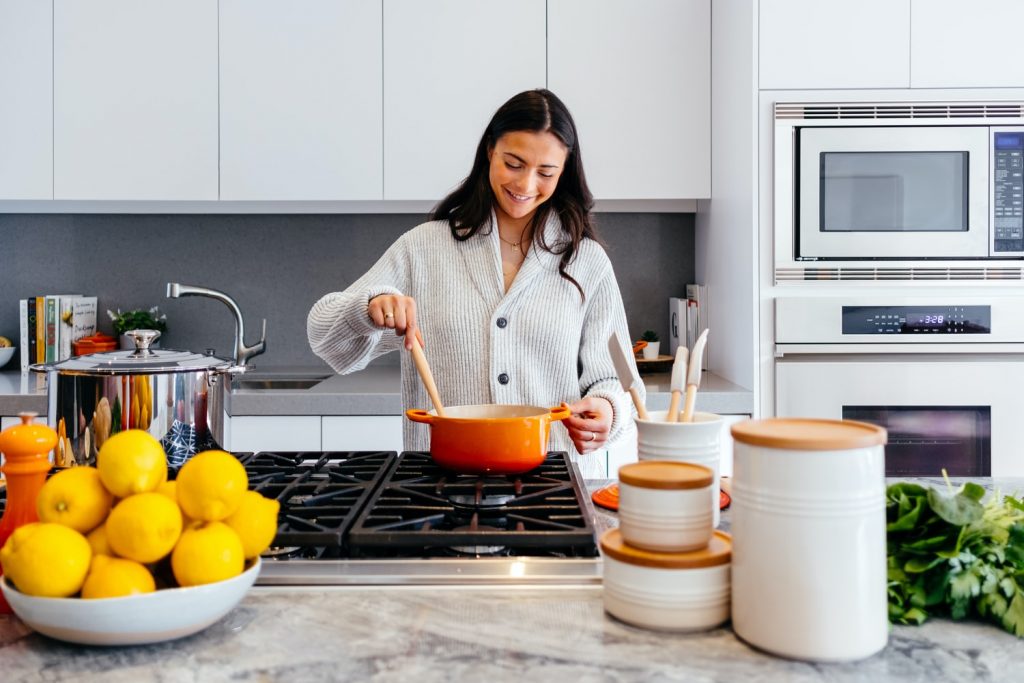 If you became the owner of a new apartment or plan to do a rearrangement in your favorite home, first look in the kitchen. This is the most visited room in every house, so its decoration and equipment must be approached with special attention. We have put together TOP-10 tips on how to buy online and, for example, choose appliances in the kitchen.
Tip1
Pick simple solutions. Remember that space in the kitchen is limited. Universal "3 in 1" appliances save space and your time.
Tip2
Do not clutter the room. If you have a kitchen up to 10 square meters, buying a side-by-side refrigerator is not worth it. Similarly, you don't need to buy a whole stove when you can choose a built-in panel and a separate oven.
Tip3
By the way, if you want a side-by-side refrigerator, check the width of the front door. So large-sized equipment can get stuck in openings that were designed in old times. The same goes for the dimensions of any equipment.
Tip4
Built-in appliances are a Latest trend. It is simpler than it seems and much more practical than stand-alone devices. Built-in appliances save space, but it also looks aesthetically pleasing. But, as a rule, in order for everything to be correct and beautiful, a global reconstruction of furniture may be required.
Tip5
Remember about power. If you plan to install an electric stove instead of a gas stove, check to see if you can get a good power supply to it.
Tip6
Take care of fire safety and exhaust hood. Try to choose modern technology that is designed to meet the highest safety requirements and has the appropriate functions.
Tip7
When buying large-sized kitchen appliances or built-in units, ask the seller how its warranty repairs and maintenance are carried out, how quickly the master arrives at your house and whether he arrives at all.
Tip 8
Try to buy equipment with protective functions: from leaks, power surges, overheating and so on. This will save you time and nerves.
Tip9
When installing equipment, remember to maintain it. Even an ordinary coffee maker needs to be washed and cleaned of dirt. Any, even embedded equipment, has similar maintenance requirements. You need to think about how you will do this in advance.
Tip10
Before buying, read reviews of people who use the same or similar models. In practice, there may be nuances that are not specified by the manufacturer. For example, the equipment may be noisy or, when installed in certain conditions, may create difficulties for repair and maintenance
For other tips and tips on how not to lose your warranty, read the following article on the "Buy Online Easy" educational project.
This product is available at AliExpress, Gearbest, Banggood.
At aliexpress.com you can purchase Kitchen Suction Cup Sink Drain Rack Sponge Storage Holder Kitchen Sink Soap Rack Drainer Rack Bathroom Accessories Organizer for only €0.26, which is 99% less than the cost in Banggood ($27.99).
The lowest price of Xiaomi ZAJIA Automatic Sense Infrared Induction Water Saving Device For Kitchen Bathroom Sink Faucet was obtained on September 12, 2021 9:29 pm.
Price history for Kitchen Suction Cup Sink Drain Rack Sponge Storage Holder Kitchen Sink Soap Rack Drainer Rack Bathroom Accessories Organizer

Latest updates:

$0.31 - July 20, 2021
$1.14 - July 7, 2021
$1.19 - June 29, 2021
$1.54 - May 29, 2021
$0.41 - April 27, 2021
$0.33 - April 5, 2021

Since: April 5, 2021

Highest Price: $1.54 - May 29, 2021
Lowest Price: $0.31 - July 20, 2021
What do you think about it? Leave your comments below.